Football
After a bumpy start to the season, the Indians drew a tough tournament opponent in Dennis-Yarmouth, and suffered a 42-7  loss in the Division 5 South quarterfinal. Still, the team is approaching its remaining games with heart. The Indians will have the home field advantage for the Thanksgiving Day game against Norwell.
Cheer
Competing for the first time in the co-ed division, the team worked hard in two invitational to prepare for league championships. At the South Shore Cheer Invitational at Abington High School on Nov. 1, the squad celebrated a first place finish. At the Patriot League Cheer Championship on Nov. 5, the team was crowned Patriot League-Fisher Division champions. And at the challenging state competition on Nov. 19, the squad came in fourth.
Boys Soccer
With a 7-8-3 record, the team earned a tough first round matchup in the Division 3 South Tournament. Seeded 16th, they faced top seed Seekonk (15-0-3) on their opponent's home turf  Nov. 4. Despite strong leadership by captains are Garrett Madison, Joe Doyle and Ryan Hennessy, the team lost -2-1.
Girls Soccer
After finishing 9-4-3 in the regular season (1-1-3 in league play), the team earned 7th seed in the Division 3 South Tournament. They played 10th seed Rockland Nov. 4. Senior Captains Alyssa Frates, Hannah Levin and Marisa Shoulla tried to  capitalize on the home field advantage, but the team fell short, 3-1.
Cross Country
The team performed strongly at the Patriot League Meet on Oct. 28.  Junior captain Nick Courtney finished 18th overall with a time of 17:48.8 on the 5,000 meter course at Pembroke High School. Freshman Chris Pacino was 23rd with a time of 18:01.5. Junior Alyssa Nee finished 12th among the girls in 28.02.8. All three were named Patriot League All Stars.
The MSTCA Frank Mooney Coaches Invitational, held Nov. 4 in Wrentham, was the final meet before the Divisional Championship on Nov. 11. The girls have seen excellent performances by Nee, Audrey Wheeler and Erin Flynn while the boys have been lead by  Courtney, Pacino, and Tomas McDonough.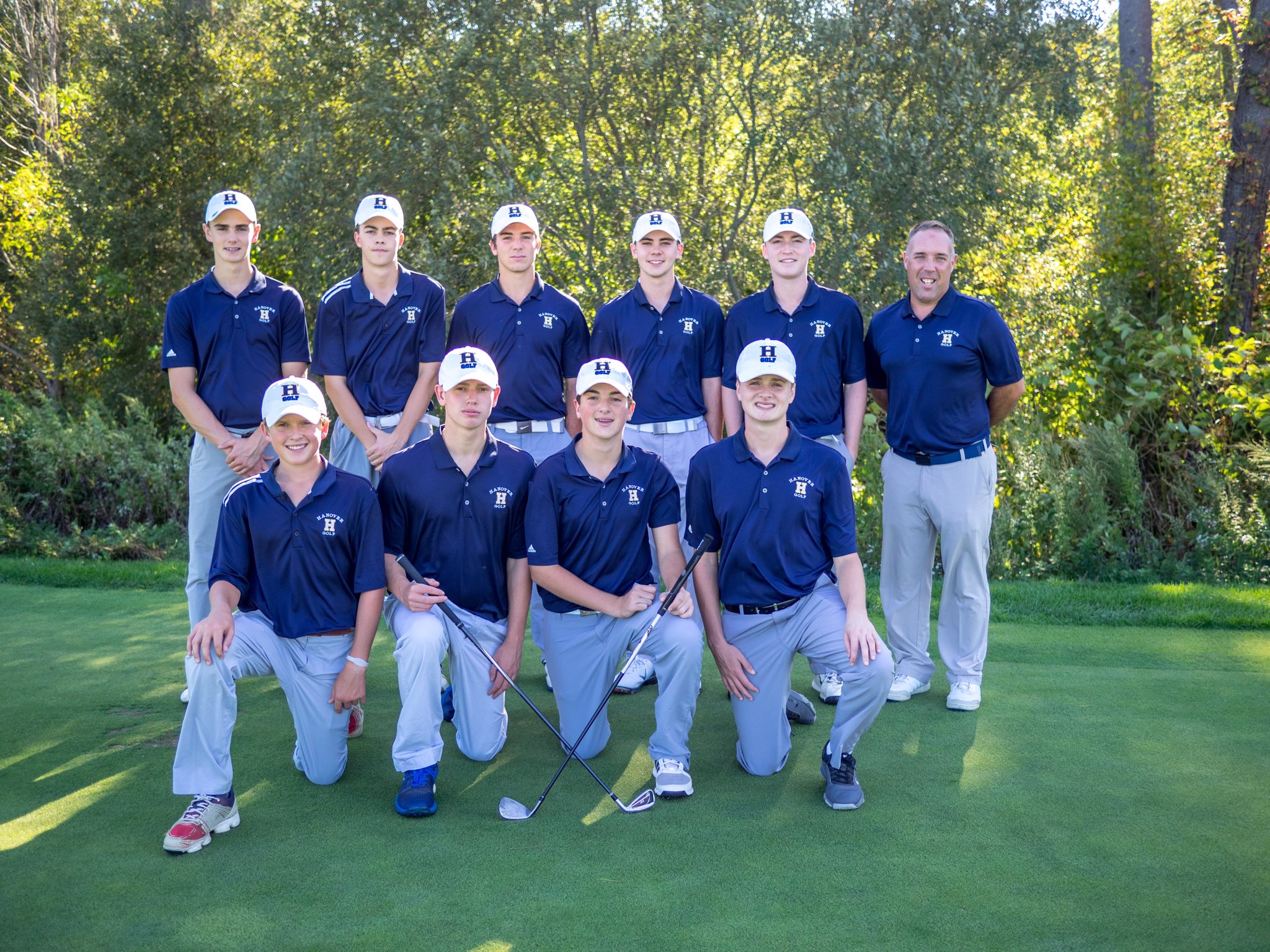 Golf
The team had a strong start, going into Homecoming with a 10-2 record and three matches to go. The finish wasn't as solid  as the boys had hoped, though, and they ended up 11th at the Division 2CC Tournament. Captain Drew Zielinski led the team with an 81 in the match.
Volleyball
Behind senior captains Taylor Scott, Cassie Calabro and Morgan Lundin, the squad ended the regular season 9-11 and fell just short of a tournament spot. Needing to win its last four games to qualify, Hanover took down Abington, Norwell and Plymouth South before losing to Rockland on Oct. 26.
http://www.hhsindian.com/2017/11/02/field-hockey-season-ends-in-first-round-of-tourney/