Girls Soccer
It was a thrilling postseason for the girls soccer team. After a rough start to the season, the team won 14 consecutive games on its way to the Div. 3 South tournament final.  With a 10-5-4 record and an undefeated second half, the squad was seeded 10th heading into playoffs. They beat 7th seed Seekonk 5-1 on Nov. 3, 15th seed Bishop Stang 4-0 on Nov. 5 and 14th seed Dover-Sherborn 3-1 on Nov.  7.
With momentum on their side, Hanover took on top-seeded Norwell (19-2-1) for the division title on Nov. 11 in Milford. In a gutsy battle from both teams, the game went into overtime. Despite a stellar performance, Hanover fell to Norwell 3-2.
Strong performances came throughout the season from senior captain Lindsay Maslow, junior Dottie Tilden, sophomore Gillian Kenney and freshman Molly McGlame.
Boys Soccer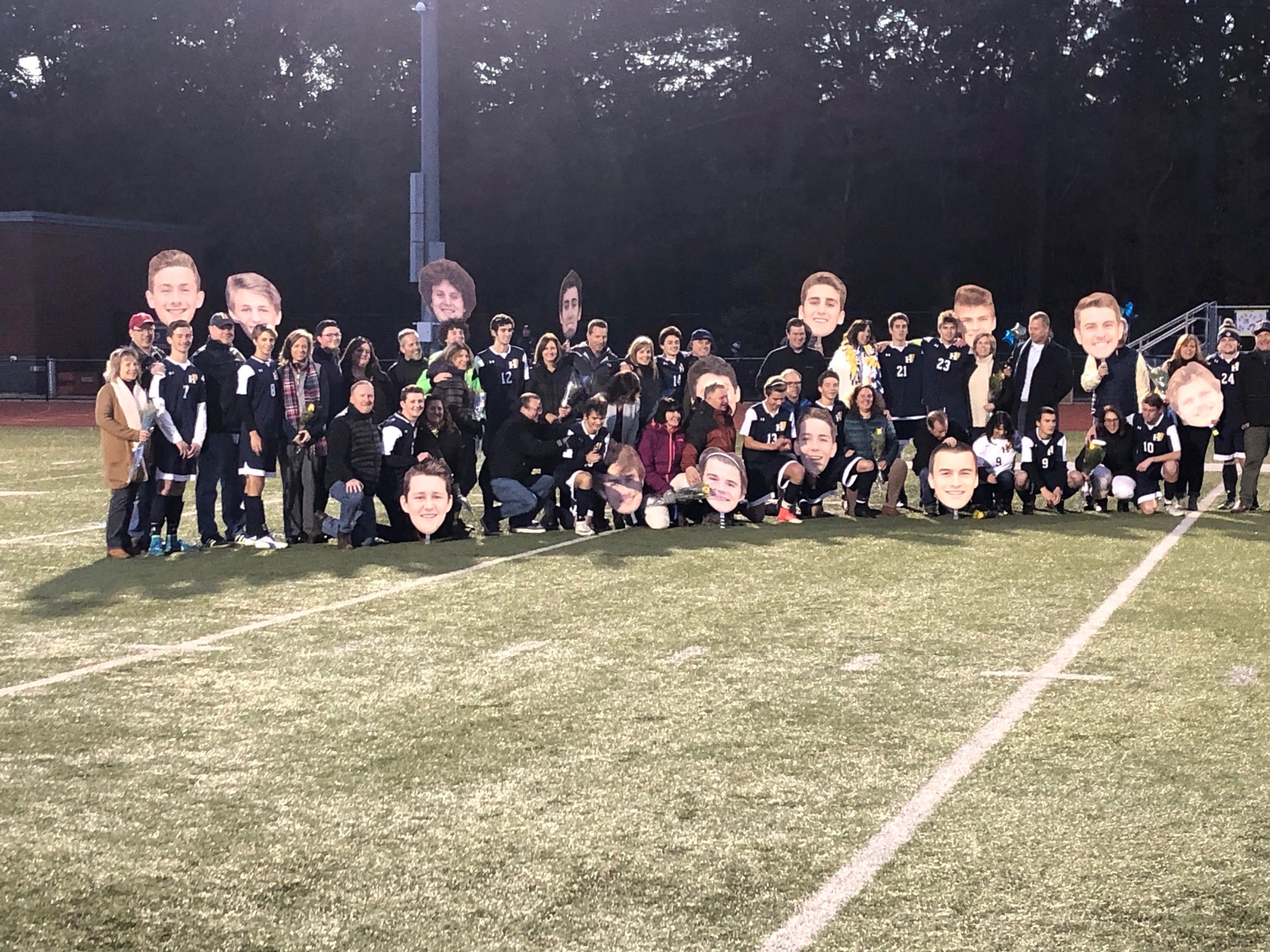 The team celebrated its huge roster of seniors with a 4-0 win over Hull on Oct. 25.  Seniors Cole Sweeney, Andrew Ferreira, Collin Wright and Sam Perkins all scored goals in the win, which brought their record to 8-6-4. Senior Joe Clinton and sophomore Collin Frucci combined for the shutout in goal.  The squad, earned 16th seed in the Div. 3 South tournament.  Clinton has been strong in his first year ever as a goalkeeper. Senior captains Perkins and James Clarkson have led them team in tough, physical play all season.
Preliminary tournament action kicked off at home against 17th seed Joseph Case High School (7-6-3) on Nov. 2.  A 1-0 win set up a matchup with top-seeded Norwell on Nov. 4. Norwell best the Indians 3-0 to bring the season to a close.
Despite the early exit from tournament play, Hanover's motto of "Team First" showed through at every practice and game. Clarkson, Perkins, Caleb Pongratz and Jake Heyl were named Patriot League All Stars. Haraden Bottomley earned the league Scholar Athlete Award and Wright received an Individual Sportsmanship Award. Ferreira led the team with 13 goals on the season; Pongratz had eight.
Field Hockey
After finishing the season with three wins in three days, the team earned a 9-5-2 record and the the Patriot League Fisher Division title. Seeded 14th in the Div. 2 South tournament.  In their first round game at home on Oct. 31, they beat 19th-seeded Middleboro 5-0. Goals were scored by five different players: seniors Morgan Foley and Meghan Rice, and juniors Olivia Hussey, Julia Dunderdale and Cory Worrall. They traveled to third seed Medway on Nov. 2, but lost 3-0 to end the season.
Foley and Hussey were named Patriot League All-Stars along with senior goalkeeper Maegan Amsler and senior Kathryn Fallon.
Volleyball
The team qualified for the Div. 2 South tournament in their final home game Oct. 22, celebrating Senior Night and their first trip to the postseason in several years. With a 10-10 record, Hanover earned 11th seed and a first-round matchup against league rival and 6th seed Pembroke. The schools had met twice in the regular season, each taking a win in five sets. In the playoff on Nov. 1, senior co-captains Emily Sullivan and Jill Poirier combined with classmates Jacqui Manning and Caroline Zielinski to lead their team in giving their all.  Hanover lost the first two games, but roared back to win the third game 25-22 and lead the fourth game 23-22 before Pembroke scored three consecutive points to win the match. Despite falling short, Hanover's rally highlighted the hard work and passion this team has brought to the court all season long.
With only four seniors graduating and a strong roster of juniors and sophomores, coach Dave Jakub has high hopes for the future.
Football
After finishing the regular season 5-2, the team had high hopes for the post-season. Earning 5th seed in the Div. 5 South tournament, the team lost in the first round to 4th seeded Canton, 27-13, on Oct. 26. Canton took a 14-0 lead in the first half. Hanover roared back in the second half with a 60-yard touchdown pass from senior quarterback Andrew Carroll to senior Drew Berard and a 66-yard TD run by senior Ethan Ritchie. But unfortunately it wasn't enough.
Despite the early exit from tournament play, the team had many memorable moments this season. Senior quarterback and captain Andrew Carroll led the team with his skillful passes. One of Carroll's best moments was in the final 30 seconds against Plymouth South, when he threw a 7-yard touchdown pass to junior Pat Damon,  pulling the Indians ahead of Plymouth 13-12. The Indians later won the game 15-12. Damon was another valuable player, catching four touchdown passes in the first five games. In the defeat over Pembroke, Damon scored three touchdowns in one game.
The team will play its traditional Thanksgiving Day game in Norwell this year.
Photos from game vs Plymouth South
Cross Country
With an impressive 8-0 record, the boys team cruised to the Patriot League Fisher Division Championship. The girls put in solid races on the way to a 4-3 record, led by senior Captain Alyssa Nee, who won all seven league races and was named Patriot League Fisher Division MVP. At the State Coaches Invitational Meet on Nov. 3, the freshmen boys placed 2nd and junior boys placed 3rd. With snow on the course and a chill in the air at the Division 2 All-State Meet on Nov. 18, Nee finished in the top 50 to cap off a stellar final season.
Individual runners  racked up personal records all season, which they credit to their average 10 hours of training and 25 miles per week.
Golf
The team finished the regular season with a 9-7 record and qualified to compete at the MIAA D2 South Sectional Tournament.  The team finished 8th out of 14 teams competing and was led by sophomore Gavin Graybill.  Graybill finished the round tied for 6th and qualified for the D2 State Championship on Oct. 30 at Marshfield Country Club.
Cheerleading
The squad earned its second straight Patriot League Fisher Division championship on Nov 3. The title followed a 2nd place finish among Div. 3 teams at the Braintree Invitational on Oct. 27. After a strong performance at the MSAA Sectionals in Franklin on Nov. 11, the team finished 8th at the state championship at Worcester State University on Nov. 18.