by Grace Van Duyn
The year 2019 was full of achievements and struggles. The issues ranged from impeachment and immigration to Brexit, the college admissions scandal, and climate change. Notable events included the fire that destroyed Notre Dame Cathedral in Paris and the World Cup win for the US Women's Soccer Team. Although there were many important news stories, two that stuck out to me are the first photograph of a black hole and the devastating fires in the Amazon. The effects of these two events will be felt for years to come.
For the first time in history, astronomers captured and released a picture of a black hole. Before 2019, astronomers had struggled to find methods to take a picture of a place in space where no light could escape. A driven group of international astronomers and computer scientists worked together over the span of a decade to create technology so advanced that it could detect the faint silhouette of the black hole. Katie Bouman, a graduate student at MIT, helped to develop an algorithm that captured the image of the massive black hole. This discovery, announced last April, will be an important part of the study of astronomy in the future.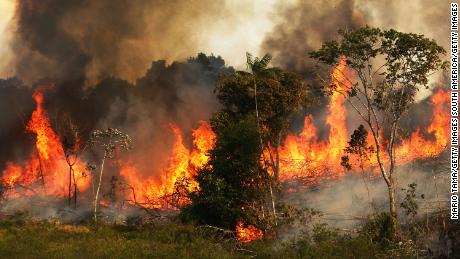 The Amazon rainforest fires, sparked in August, killed millions of animals, destroyed the homes of many indigenous tribes, and had a global environmental impact. This natural disaster impacted the entire world because it is the largest rainforest on Earth and is vital to all life. Experts blame these fires on increasing deforestation, trees being cut down to make room for cattle ranches or development. It could take hundreds of years for the wildlife and forests to recover.
Just a few weeks into 2020, the new year has plenty of issues and headlines of its own. So far, we have fires in Australia, conflict with Iran, the scandal in the British royal family known as Megxit, and the upcoming presidential election. As the year progresses, I hope that we are we are able to continue in our successes and address our problems. We have a whole new decade ahead of us.
Featured photo: https://www.newscientist.com/article/2198937-first-ever-picture-of-a-black-hole-may-be-revealed-this-week/